REQUEST A CALL BACK USING THE FORM BELOW
Online Booking Form
Marble polishing service Dubai.
Royal Standard UAE offers professional marble polishing and stone floor polishing services all over UAE. We are experts in floor grinding, floor polishing and restoration of all kinds of stone floors.
Marble, Granite and other stone floors lose their luster and shine with time. Soft stones like Marble and Italian Marble are prone to scratches, their soft surface absorbs dust and stains easily. Marble and Granite floors also start looking dull with time and need to be restored.
It usually takes a day to complete 300 sq ft of floor grinding and polishing. However please contact us to get detailed information.
Wall skirting is also included in the process. This is done by hand.
BOOK YOUR SERVICE ONLINE USING THE FORM BELOW
Online Booking Form
Marble Polishing Dubai
While marble floors and tiles are indeed elegant, they also require a lot of effort to keep them looking polished. This is because the natural marble tends to absorb oils and fats from the ground. If you are thinking of getting a marble floor, you should be aware that it requires regular polishing to keep the marble floor looking shiny and beautiful
What is Marble Polishing and Why is it Important?
Marble floor or Granite polishing is very vital to have once per year. It is helpful to prolong the life span of the floor. The marble is very lustrous and it has pores in it. Therefore to improve surface efficiency, it's essential to polish it. Marble Polishing and Marble Restoration not only gives it a glimmer, but additionally, it improves the lifetime of the floor.
How does marble polishing or Floor Restoration Work?
Marble polishing is the polishing of marble with time. Royal Standard UAE's stone polishing and Marble floor services in Dubai include the process of grinding the floor which removes all the stains from the floor and makes it flatter and shiny as new. Then this process helps to give more glow to the marble surface. The polish is done on the outside to make it lustrous and more shining. At the finishing phase, sealing is done, it assists in the elimination of unwanted cracks, dirt, and debris from the floor. Therefore the sealing of the floor is very important once per year.
What are the advantages of Marble Polishing?
Marble floor cleaning and polishing is very important and its several benefits. The polishing of the marble can increase the surface density of the objects like granites or different types of marble material and also makes it strong so that it can withstand a collapse. Therefore it's crucial to clean all the marble surfaces of the floors to remove the stains. Because the cleaning of them increases the life of these marble surfaces and they may tend to tolerate a lot of ambient temperatures.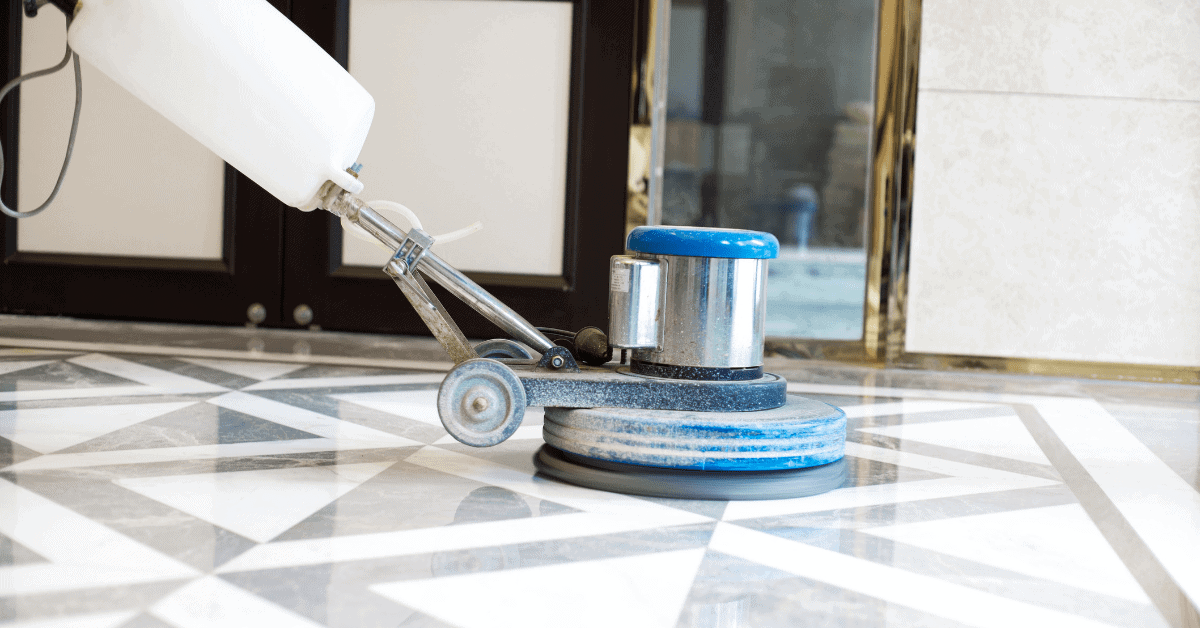 How frequently should you've your Marble Polished?
It's very crucial to clean your marble surfaces every year. It may be cleaned with the support of soft cotton garments, with the standard PH detergents, it is possible to mix dishwashing soaps with a little water to normalize its pH. This assists in cleaning. Marble floor cleaning and polishing is crucial to have once a week. It may be easily done on you because these are rather easy to make and remove the dust particles as well.
Why do I need to hire a professional to clean it?
However, to prolong the life span of your marble floors and coverings, a marble tiling firm has to be equipped is supplying marble tiling solutions in Dubai, these solutions are very important to get at least once every year. Granite polishing support in Dubai by Royal Standard UAE provides the best Granite polishing firm services in Dubai. The solutions include all of the heavy cleaning and restoration of the marble floors. These solutions are essential to get once per year.
Why is Royal Standard UAE considered to be the best marble polishing company in Dubai?

It doesn't matter how beautifully you've designed your home or office, if it's not clean and maintained properly it will look like a dump. When it comes to maintaining the marble surfaces in your home or office, you can count on our expert marble polishing service by Royal Standard UAE to keep your marble surfaces looking beautiful and new for years to come. We have a decade of experience in marble polishing and floor restoration of villas, houses, offices, and so on.
What is the marble polishing cost or price in Dubai?
Marble flooring can be successfully polished for an average cost of 5 to 10 AED per sq. ft. The process involves cleaning the stone's surface, removing any stains using acid chemicals for marble floor stain removal. Please contact us to get professional consultation in marble and granite polishing in Dubai.
How to Polish Marble Floors? And What are the steps for Marble Polishing? (Marble Polishing Procedure)
There are four basic methods used today to create a shine on natural stone floors: Buffing with polishing powders and compounds, grinding with diamond abrasives, crystallization, and applying barrier coatings. Each method may not be effective on all stone types and the use of more than one may be necessary.
Marble Polishing Powders and tile polishing Compounds are fine grains of aluminum or tin oxide abrasive powder that are buffed or rubbed on the surface of the stone to create shine. This process is the same as sanding with diamonds except that the powder is a much finer abrasive. This process is most often augmented by the addition of oxalic acid or oxalate to create a reaction similar to crystallization. The powder is put on the surface and wet with water to make a paste or slurry that is buffed into the stone with a 175 rpm weighted floor machine and a hogs hair or white pad.
Grinding with diamond abrasives is done by grinding the surface of the stone with various grits of industrial-grade diamonds that are usually in three to four-inch diameter pads or discs. Three to six discs are placed on the bottom of a floor machine drive plate and held on with Velcro. A low-speed (175 rpm) floor machine is used to drive the plate and sand the stone surface with diamonds to remove scratches. The process is repeated with finer and finer grits of diamonds until a mechanical shine is achieved. Unlike concrete floor polishing, marble polishing takes more effort and requires considerable care. The concrete polishing multi-step process where a concrete floor is mechanically ground, honed, and polished with bonded abrasives.
Coatings are commonly known as "waxing" the surface to create an artificial shine. A liquid or semi-liquid form of wax, acrylic, urethane, or other polymer is applied or "coated" onto the surface with a mop, roller, lambswool applicator, or sprayer. Some are left as applied and others must be "buffed out" to achieve the shine. This is generally done with a high-speed burnishing floor machine and fiber or hogs hair pads. This process is not recommended for porous stones. All our marble polishing tools are imported and are checked for quality.
Crystallization is a process in which a chemical called fluorosilicate is sprayed onto the stone and buffed in with steel wool pads causing new, glassy, crystals to be formed on the surface. A standard 175 rpm floor machine with a special heavy drive plate is used to create the heat and friction needed to form and polish the crystals.
Why choose Royal Standard UAE as your Floor Restoration and Marble Polishing Company?
A good marble maintenance crew should have three basic abilities:
First, the ability to distinguish the material. Is the material in question? Or is it limestone? Which type of marble quarry does it belong to? A Spanish Crema Marfil or an Italian White Carrara? Different materials mean different compositions and treatments. It is essential to know the material before any work is done to the stone and WE KNOW STONE because we were stone traders before we became maintenance experts and we were the marble pioneers and imported different stones from all over the world.
Second, experience installing and fabricating marble or granite. We can replace or repair any cracks, including all types of marble in the kitchen or your mansion by using the best-in-class marble polishing kit or marble polishing liquid.
Third and most importantly, an understanding of how chemicals will react in different environments. To polish and restore marble floors, you must use chemicals and different materials that will react differently to the same chemical. We have a combined experience of more than 20 years with these chemicals and know the in and out of marble polishing.
Get In Touch With Us Today to get the best marble polishing service price in UAE
Take a few minutes to contact a professional marble polishing company – Royal Standard UAE today, and find out why we are the experts at marble polishing Dubai and why customers have grown to trust us as a brand in Dubai, United Arab Emirates.
Our Services
Royal Standard UAE provides Deep Cleaning, Disinfection Service, Marble Polishing Service, Pest Control Service, Handyman Services, and Sofa Cleaning in Dubai. Book your residential and corporate cleaning services with confidence and we assure you the best price with quality service.